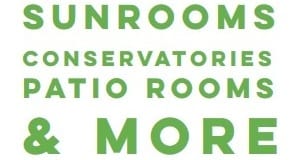 Designed for year-round living, our solarium, patio enclosure and sun room designs can be customized to fit your lifestyle and will enhance the beauty and value of your home.
Traditional and contemporary sunrooms and conservatories will add light, elegance and a spacious look that will blend perfectly with any style home.
Each patio room, conservatory and sunroom design comes in a variety of sizes, roof and frame finishes, door choices and many other features. Click Here to view our gallery
Curved Eave Solarium Designs
A refined sun room patio enclosure with an elegant curved eave.
The graceful lines and elegant symmetry of our curved eave solarium designs complement your home's existing roofline for a polished, finished look.
Choose this beautiful sun room patio enclosure and you'll own the solarium that made Four Seasons famous.
Select a solarium with a slim, contemporary aluminum profile, or one with the warm natural feel of Northern White Pine beams. All-year comfort is standard with every sun room patio enclosure!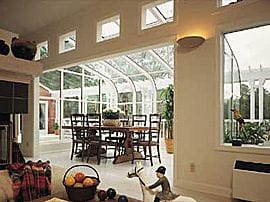 The exclusive, patented, multi-coated CONSERVAGLASS SELECT windows ensure longevity, safety and an energy efficiency you won't find anywhere else.
Whether it's an urban loft oasis or a rustic country retreat, a Four Seasons curved eave solarium will blend beautifully with your home.
Available in 2 Styles
Glass Roof Sunroom or Patio Room with Aluminum Frame
Glass Roof Sunroom or Solarium with Wood Interior
Traditional Glass Room Conservatories with Contemporary Construction
Recreating classical architectural designs with maintenance-free and energy efficient modern structures, Four Seasons Sunrooms offers masterpieces of design in its English-Style Conservatories — where classical design and contemporary construction combine for the ultimate in all-season luxury living.
Choose from ornate Victorian sunroom styles or stately Georgian sunroom models, in a broad selection of sizes and formats — from intimate retreats to opulent pool enclosures.
Complement your home with a glass room addition of stunning individuality and structural grace.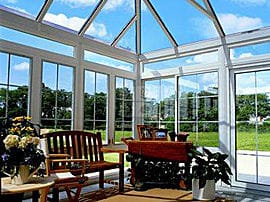 Available in 4 Styles
Victorian Conservatory with Aluminum Frame
Georgian Conservatory with Aluminum Frame
Victorian Conservatory with Wood Interior
Georgian Conservatory with Wood Interior
Victorian Conservatory with Vinyl Cladding
Georgian Conservatory with Vinyl Cladding
Learn More
Schedule a FREE In-Home Design Consultation